Unlimited possibilities with UiCore PRO WordPress Theme
With UiCore PRO you can build unlimited websites, personalize the theme with your own brand style, and access all UiCore Framework features, all in one affordable yearly subscription.
Powered by UiCore Framework.
A true powerhouse for WordPress.
Use UiCore's interactive design tools and its many customization options to customize anything and everything needed to build the fully-functional website of your dreams.
With a great range of blocks, widgets, and pages, you'll have everything you need to create a truly exceptional website, that stands out.
UiCore Framework (theme core functionalities), Elementor (free page builder), and Element Pack Pro (premium plugin, included for free).
With stunning text animations, mesmerizing hover effects, parallax scrolling effects, and even custom cursors, your site will be a cut above the rest.
With this powerful tool, you'll be able to control every aspect of your website from one location. From global fonts and colors to layouts and features, you'll have complete control over your site's look and feel.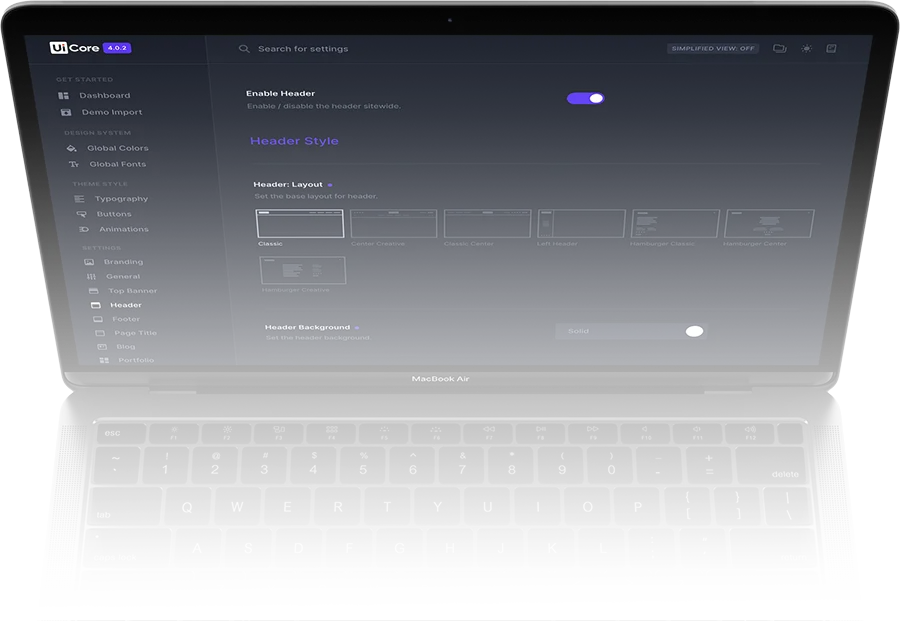 With the Theme Builder, you have complete control over the static elements of your website, and because you can include or exclude templates.
Analyze and manage your website features and make better performance-related decisions, all in one panel, with no extra plugins to think about.
14 ready-made full websites. For now.
Explore an ever-growing collection of ready-made websites to help you kickstart your design journey. Import any design in one-click, mix-and-match sections, and adapt it to your branding in no time.
Our commitment knows no bounds. We won't stop here. Our goal? To become your one-stop website-building solution. That means creating templates for every niche and destination. So, no matter your project – whether it's a personal blog, an online store, or a professional portfolio – we're here to provide the templates you need.
Everything you need, in a single subscription.
We've simplified things to make it easy for you. With our single annual subscription, you get access to all our premium features. We believe in providing exceptional value, and this all-inclusive approach ensures that you can enjoy every aspect of our service without any hidden costs. It's our way of making sure you have everything you need at an affordable price.
For agencies, freelancers, or passionate web design enthusiasts striving to craft exceptional websites.
Also included with your subscription:
"This is one of the best themes I've ever used."
People worldwide love how easy it is to design and publish a professional site with UiCore themes.
poison4all
Very good and usefull theme with really helpful support and owner! Would highly reccomend!
leotervoli
Really nice theme. i can customise almost everything. Suport for me was very fast, they replied and solve it within 1 - 2 hours.
Spyderhost
This is by and far the best theme I have used in my years on themeforest. The documentation is great, the layout of the theme is done very well and it doesn't bloat your demo install with a ton of unnecessary pages and posts. Not to mention the support which is outstanding.
ne122
I think that this is the best theme in its category on themeforest. Amazing. It is like magic. So good
tikihutkid
Uicore's themes are some of the best I have ever used. Clean admin panel and fast custom support. Will return.
georgeguimaraes
This is the most flexible yet powerful theme I've used. The use of Elementor with theme blocks and theme settings has made me completely recreate a website in 2 days. Thanks so much!
genonioff
I've known some themes, really : my agency really works with all kind of themes (more or less complicated to integrate sometimes) ; but here : seriously : how did you guys do that ? It's magic ! Incredible integration experience I have such a good time integrating everything. I don't know the optics of this theme, but your UiCore framework is just magical. Also, the pre-configurations of your other themes are present as extra additions: thanks!
RubyPress
Amazing customer support! They went beyond expectations and took care of any issues I had. The theme has an extensive amount of options and is well built.
appdesigndev
Mejor diseño para mi empresa de diseño web Málaga, creamos páginas web con la calidad de este template de WordPress.
Estamos muy agradecidos con la calidad del código, el panel de administración y las constantes mejoras y actualizaciones, muy recomendable para diseñar tu web de calidad. Muchas gracias.
alexmessomalex
One of the best themes I've ever tried! Great design, with many features. Highly recommended
sandadumitriu
I'm also a customer of Brisk, and all I can say is this theme keeps up with UiCore standards: beautiful designs, lots of ready-made sections, and a super intuitive theme options panel. The thing that I like most is that you only need to install 3 plugins to get all the features, and the dashboard is not bloated like on other themes. Quite amazed with the page load speed as well. Excellent job overall, 5 stars!
newtechnews
i bought this theme exactly 20 minutes ago and already familiar with the theme. very good theme. hope the developers are keep up the good work.
rabeymedia
I am really impressed. I consider myself only intermediate with WordPress, and I set up my site in about an hour - all pages, menu, & footer (I still have to create all my content of course). I love the design and the ease of use of the theme builder.
5 Stars for sure!
Herr-Knobel
ATM my goTo for nearly any Customer-Site. Great fexability!
NenadJovanovicCOM
Brilliant theme and an awesome team behind it, Loving the UiCore range of themes- all built on a solid platform and are super easy to install use and optimize.
Customer support has been amazing and super helpful, Cheers to a ton more great products from your team!
ednord
Easy to customize, so Powerful with its Theme Builder feature! White label included. Compatible with WPML. Ready made demos and sections available. Prime support. Trust in my experience, Brisk is the future.
nawawickrama
Awesome design. Really impressed with this theme and it's really unique. Good work and highly recommended
Mattcosta
Brisk is the best theme I have tried as of now. What I really like is that you just have to install 3 plugins to be able to fully customize it, instead of dozens of plugins like the other themes. The quality of the code is amazing as well as the design of the demos and blocks. It really has that modern touch. I expect a lot from this theme in the future. Keep it up!
Frequently Asked Questions
How many sites can I use UiCore Pro on?
You can install UiCore Pro on unlimited websites.
Will I have access to all your other themes on ThemeForest?
No. Even though it uses the same framework, UiCore PRO is a different theme that has its own set of templates. If you need to use a template from our other themes, you will need to purchase one license / website from ThemeForest.
You will get a notification in your Theme Options panel whenever an update is available. You can update it automatically with just a click.
What kind of support do you offer?
What's your refund policy?
We believe in our products, but we get it – they might not be for everyone. If you're not happy with your purchase, no worries! We'll gladly refund your money within 14 days of purchase.
Will you add more ready-made websites in the library?
Yes. We are constantly expanding our library with new ready-made full websites and blocks.
Which page builders are used for creating starter templates?
The ready-made websites use Elementor page builder.
Do I need to purchase Elementor PRO?
No. Our themes have similar features to Elementor PRO (Theme Builder, Visual Form Builder, Motion Effects, Parallax & Mouse Effects, Custom Fonts, Sticky Elements), and many more.
How does White Label work?
Using our White Label feature, you can fully customize your theme including: theme name, screenshot, author, author url, admin panel name and logo, login screen logo, etc.
Can I resell UiCore PRO, or bundle it with my product / service?
No. You can only use UiCore PRO to build websites (end-products) for you or your clients. Reselling or bundling our product is forbidden, and may result in your account being deactivated.
Charting Our Path Forward
New features, more templates and a groundbreaking Ai Builder!
In 2020, our journey began with a simple goal – crafting user-friendly WordPress themes powered by cutting-edge technology. Fast forward three years, and we're thrilled to boast a thriving community of over 12,000 clients, all championing our outstanding user experience.
Yet, today, we stand at a new horizon with the launch of UiCore Pro. Equipped with a mature framework, backed by a team of talented developers and designers, our vision is expanding beyond our wildest dreams. Picture this: a vast library of world-class designs and a groundbreaking AI Builder that can craft websites in seconds. Our path has just begun, and we invite you to join us on this exciting journey into the future.